by Ron Spomer
In the 1922 the 30-06 was 16 years old, the 375 H&H Magnum was 10 years old, and the 35 Whelen was about to be born.
Thousands of Doughboys were back from WWI, trained on the 1903 bolt-action Springfield. They were ready to enjoy the ballistic benefits of faster, flatter shooting cartridges than dad's lever-action 30-30, 32, and 35.
The time was ripe for the 35 Whelen.
Colonel Townsend Whelen was 45 years old and working at the Frankford Arsenal in Philadelphia with John Howe, later of Griffin & Howe. The two enlarged the neck of the familiar 30-06 to take a .358" bullet and created a small sensation soon nicknamed the Poor Man's 375 H&H Magnum.
Really? 375 H&H performance from a 30-06-sized cartridge? This 35 Whelen bears investigating.
When this null necked member of the 30-06 family is pushing a 250-grain Partition it blasts out about 10% more energy than a 30-06 throwing a 220-grain. But it's only getting within 80% of the 375 H&H driving a 300-grain. Clearly, calling it the Poor Man's 375 H&H is optimistic. But maybe close enough for any game excepting elephant, maybe rhino and Cape buffalo (although all those have been taken handily with the 30-06 and lesser cartridges.)
The Whelen can be loaded with a wide variety of bullets weights, but is arguably at its best pushing a 250-grain bullet 2,550 fps to perhaps 2,650 fps depending on barrel length and how hot it is loaded. That churns up roughly 3,600 foot-pounds muzzle energy. To put that in perspective, the old 35 Remington, beloved by pump-action woods hunters, squeaks out 2,000 f-p with a 200-grain bullet at about 2,100 fps. The 348 Winchester chambered in the revered Winchester M71 lever-action hits 2,930 f-p of punch with a 250-grain at 2,300 fps. Close. The short-action 358 Winchester? Perhaps 3,000 f-p with a 220-grain at 2,500 fps. The moribund 350 Rem. Mag. matches the Whelen almost perfectly, but in a short action in a belted magnum case.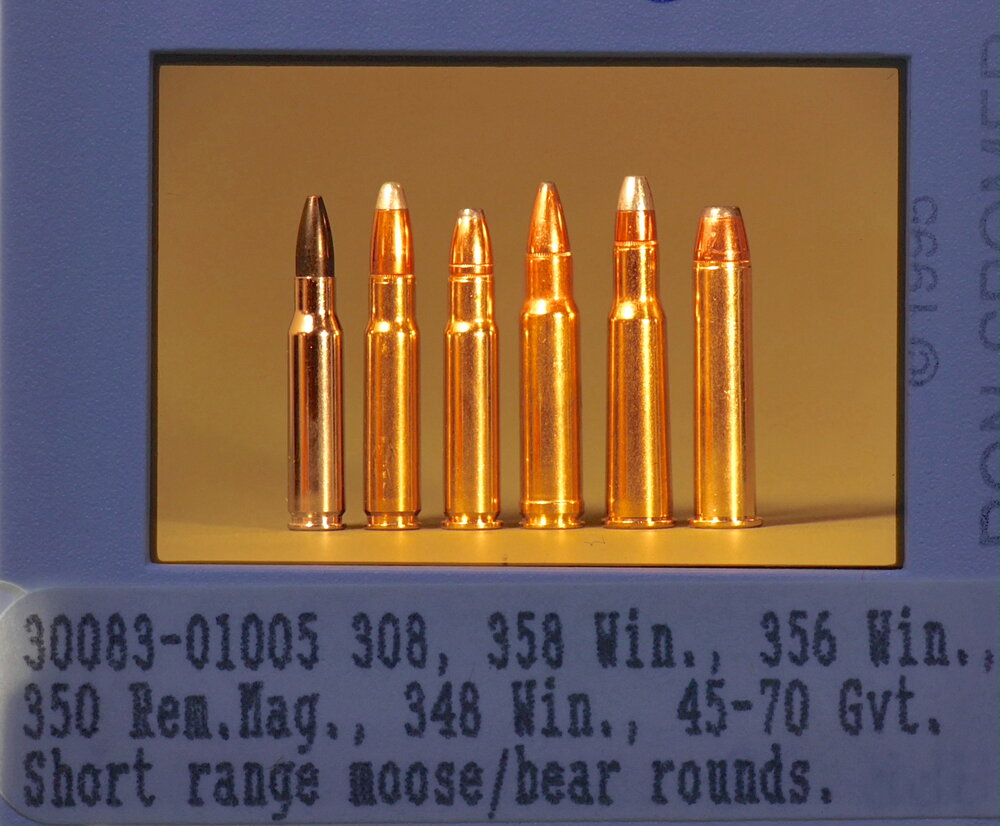 That's hardly the end of the story. The Whelen can shoot light .357 pistol bullets for plinking and small game. There are many 180-grain to 200-grain rifle bullets for lighter game such as deer. Some hunters load 310-grain Woodleigh round nose slugs for up-close and personal punch. The Woodleigh's shape sacrifices velocity/energy to drag. While it starts 2,300 fps at the muzzle with 3,642 f-p, by 200 yards its already lost 1,000 f-p. In comparison, the 250-grain Partition starts with 3,619 f-p and retains 2,623 f-p at 200 yards. Unless limiting shots to 100 yards, why endure the extra recoil of the 300-grain? Well, for potentially deeper penetration. The 310-grain has a higher SD.
Reportedly the 35 Whelen was quite popular in the 1920s, which seems odd because back then it was never offered as factory ammunition nor chambered in factory rifles. Why the enthusiasm? The 1903 Springfield service rifle.
The abundant and familiar 1903 Springfield service rifle could rather easily and inexpensively be re-barreled to 35 Whelen because it has the same rim, body, and length of the 30-06. No modifications of the bolt or bolt face necessary. Building a 375 H&H required a less abundant, more expensive Mauser magnum action, reportedly 3 to 4 times more expensive than the Springfield action. If you wanted big bullets and big punch, the 35 Whelen was a sweet option.
OK, so a 35 Whelen could be had for relatively few dollars. But, if it bested 30-06 energy by only 300 f-p or so, why bother? Bullet diameter. A .358" bullet adds considerable frontal contact area to a .308" bullet. While my contention has long been that expansion and mangling after contact minimizes this advantage, real world experience convinces 35 Whelen fans that it's real and significant. And in the 1920s the mental switch from the big, heavy bullets common during the black-powder days was still evolving. A 250-grain .358 bullet covers more real estate than a 220-grain .308 bullet. And since I've never taken game with a 35 Whelen, I'm not going to claim it doesn't provide a significant terminal performance advantage over the 30-06. Whether that performance is needed for anything smaller than elk… Well, each of us can decide that, too. And to help with that, here are some ballistic tables:
35 Whelen, 250-grain Partition
375 H&H Magnum, 300-grain Partition
30-06 Springfield, 220-grain Partition
The first thing that catches my eye when I study these ballistic charts is how surprisingly flat all three rounds shoot to 300 yards when zeroed for Maximum Point Blank Range on an 8-inch diameter target. Go to a lighter bullet in the 35 Whelen and things flatten even more…
35 Whelen, 200-grain AccuBond
Impressive as these numbers are, they don't quite capture the full potential of the 35 Whelen. For that we should examine what is arguably the ideal bullet for the cartridge: a 225-grain. Make it a sleek, sharply pointed one like the Nosler AccuBond, fire it from a 26" barrel and Mr. Townsend's 35 really shines.
35 Whelen, 225-grain AccuBond
Maximum point blank range on an 8-inch target is a smooth 300 yards with this 225-grain projectile. This suggests you could hire it to hunt pronghorns and mule deer or even mountain sheep while retaining good to excellent punch and penetration for elk, moose, and rampaging grizzlies. Recoil will be a stout 33 f-p at 16.34 fps, but that's a lot less than the 51.5 f-p at 20.36 fps slammed out by a 375 H&H throwing those 300-grain bricks.
The more you dig into the potential of the 35 Whelen, the more you begin to appreciate it. If you're looking for something with a bit more terminal performace than the 30-06 without kick of a 375 H&H, you could do worse than the 35 Whelen. But — according to my 35 Whelen friends — not much better. Hunt honest and shoot straight!
Source
35 Whelen: Poor Man's 375 H&H? is written by Ron Spomer for www.ronspomeroutdoors.com