Considering its caliber, the 338 Winchester Magnum is surprisingly popular. Cartridge popularity drops off dramatically after the 30-calibers. At least in the USA. But the 33-caliber 338 Winchester Magnum seems to thumb its nose at popularity surveys, probably because it fills the gap between that frightening kick of dangerous game cartridges and the tolerable recoil of the magnum 30s. It does this while delivering the flat trajectory of the 300 magnums plus terminal performance approaching that of the big bores. Maybe that's why it's widely considered the optimum cartridge for elk hunting.
Elvis was young and Marilyn Monroe was THE Hollywood sex symbol when the 338 Win. Mag. made its debut in 1958. It was Winchester's second belted magnum based on the 375 &H case of 1912. The first was the 458 Winchester Magnum of 1956. Like all of Winchester's belted magnums, the 458 was short enough to fit and function in the standard, 30-06-length Model 70 action and magazine, so all they had to do was neck it down and give it a 25-degree shoulder to create a magnum 338 reminiscent of Elmer Keith's 334 OKH of the 1940s. The big difference was Elmer's 334 fired .333" bullets atop a full-length 375 H&H case, just like the 340 Weatherby Magnum that finally came out in 1962. Weatherby, for a change, followed Winchester's lead.
Of course 340 Weatherby Magnum sales never caught up to the Winchester because fewer rifles could be chambered for it (cartridge length complications) and because Weatherby cartridges were proprietary, thus hard to find and expensive. The 338 Winchester Magnum's overall length is 3.340", same as the 30-06, 270 Win, etc., so its cases hold about 12 percent less powder than the Weatherby's. That amounts to about 50 to 100 fps less muzzle velocity with a 250-grain bullet. If that bothers elk, moose, bears or eland, they sure haven't told anyone.
The 338 Win. Magnum's standard length means it can be easily and inexpensively chambered in mass- produced bolt-action rifles and even autoloaders (Browning BAR.) Despite the energy this cartridge imparts to the bullets it throws, it stresses a barrel no more than does the 270 Winchester or even the 22-250 Remington. SAAMI specifications for 338 Win. Mag. maximum average breech pressure is 64,000 psi. That's 1,000 psi LESS than those two smaller cartridges.
Combine this pressure with the 70- to 76-grains of powder generally stuffed into 338 Win. Mag. cases, top with 180- to 300-grain bullets, and you have yourself an impressively versatile, flat-shooting, hard-hitting workhorse of a big game cartridge that races neck-and-neck with the 300 magnums or hits blow for blow with some of the big bores. Or close enough.
Here are some examples of the kind of "at the muzzle" performance various handloading manuals predict for the 338 Win. Mag. shooting different bullets (MPBR calculated using high B.C. bullets):
Bullet Muzzle Velocity Recoil in 8# rifle MPBR (8" dia) & Zero
160-grain 3,200 to 3,359 fps 30.5 f-p @ 15.7 fps 351 yards, Zero 300
180-grain 3,100 to 3,280 fps 37.3 f-p @ 17.3 fps 348 yards, Zero 297
200-grain 3,000 to 3,059 fps 37.0 f-p @ 17.3 fps 335 yards, Zero 285
225-grain 2,800 to 2,944 fps 43.9 f-p @ 18.9 fps 330 yards, Zero 275
250-grain 2,700 to 2,780 fps 43.9 f-p @ 18.9 fps 316 yards, Zero 267
265-grain 2,745 fps 48.2 f-p @ 19.7 fps 316 yards, Zero 268
300-grain 2,400 fps 44.8 f-p @ 19.0 fps 279 yards, Zero 236
To put the numbers above in perspective: the 300 Winchester Magnum pushing a 210-grain Nosler AccuBond Long Range (B.C. .661) 2,887 fps has a MPBR of 329 yards with a 279-yard zero. In other words, the trajectory curve of the 300's 210-grain load is almost identical to the 338's 225-grain load.
So why choose a 338 Win. Mag. over a 300 Win. Mag? Energy would be an obvious answer. Muzzle energy of the 338's 225-grain at that top end 2,944 fps is 4,331 f-p. Whether you can actually safely reach that MV is the question. I certainly wouldn't expect it in factory loads. But let's go with it and compare it to the 300 Win. Mag's 210-grain load. That one should be churning out 3,887 f-p of energy at the muzzle.
300 Winchester Magnum, 210-grain AccuBond Long Range
338 Winchester Magnum, 225-grain AccuBond
It appears the 338 cranks up an additional 444 f-p of muzzle energy. Will that make a difference in terminal performance? Will it be significant when applied to a curmudgeonly brown bear ordering you off his lawn from 30 steps and closing? I'll let you and the bear answer that.
In the meantime, if you really want to slow down an overly excited 1,000-pound bear, you might prefer that 300-grain 338 load. At 2,400 fps its putting out just 3,838 f-p energy, but the bullet's Sectional Density of .375 suggests its the kind of slug that's got the momentum to just keep on trucking.
338 Winchester Magnum, 300-grain AccuBond Long Range
Yes, momentum is the poor step child of ballistics. Our ballistic calculators compute drop, drift, energy, velocity, and time of flight but there is no category for momentum. Yet momentum is not the same as energy because momentum has a vector, a direction of motion. And momentum is conserved. Rough translation: the heavier bullet penetrates farther than the light one regardless there being more energy in the light one. Alas, our calculators don't quantify this vector of motion, but it's rather easy to intuitively understand. Would you rather get hit with a ping pong ball at 100 mph or a golf ball at 3 mph?
You mathematically gifted physicists are free to more clearly explain and clarify any of this. Also, everyone should know that the above velocities collected from various handloading manuals are not guaranteed. Handloading recipes vary significantly depending on the primer, brass, and barrels used. Besides, bullet B.C.s change with velocity. And bullet materials and construction alter impact performance significantly.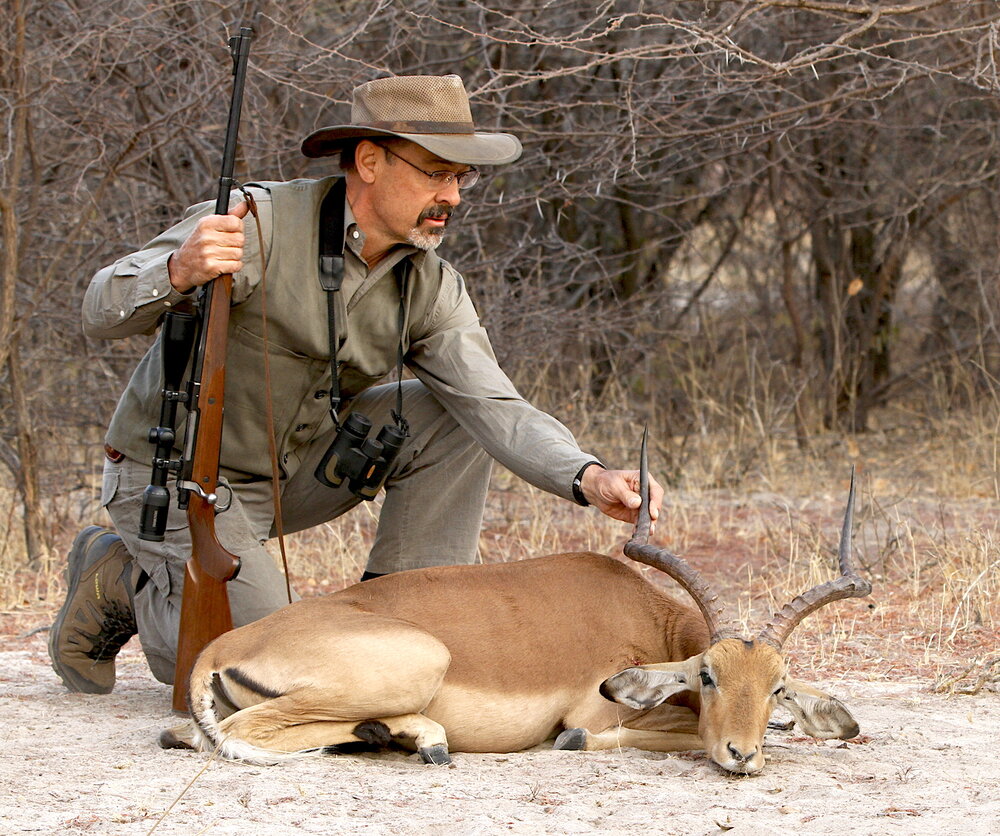 Other things to consider about the 338 Win. Mag. are rifle length, weight, and huntability. The heavier the bullet you shoot in any cartridge/rifle loaded to maximum pressures and MV, the greater the recoil. The 8-pound hypothetical rifle above might be a tad light for the 338, although I hunted with one (Ruger Hawkeye) in about this weight class and didn't find it objectionable. In fact, while shooting eland and oryx bulls, I felt no recoil that I can remember. Things might be different on the bench. But every potential 338 Win. Mag. owner needs to consider the recoil issue carefully. If you're sensitive, a 300 Win. Mag. be a minimally better option. Ruger's current Hawkeye Guide Gun in 338 Win. Mag. sports a 20" barrel and weighs 8 pounds. Stainless and laminated, it's obviously aimed at Alaskan guides and fishermen needing a reasonably handy yet hard hitting protection tool. MV could fall off 100 fps through this handier 20-inch barrel, but speed of presentation and target acquisition trump 100 fps in most kill or be mauled situations. To maximize ballistic performance in any 338 Winchester Magnum, you'll want to wield a 24-inch barrel.
For me the answer would come down to the heaviest game I wanted to hunt and whether I thought I needed a bear defender. An increasingly larger and more aggressive grizzly population in northern Rockies elk forests suggests bear defense is a concern in places other than Alaska. For pure hunting, I still think I'd go with the 300 Win. Mag. I could always load it with a controlled expansion 220-grain bullet at 2,800 fps to generate 3,830 f-p muzzle energy, right there with the 300-grain from the 338 Win. Mag.! The SD of that .308 bullet at .331 is not far behind the 300-grain .338 at SD .375. But many elk hunters are rolling with the 338 Win. Mag. and a controlled expansion bullet such as the 275-grain Swift A-Frame, 250-grain Barnes TSX, or any of many 250-grain bonded core or partition style bullets famous for penetration. Perfect for elk, moose, sheep and bear. Maybe a bit much for mule deer, but as they say, dead is dead.
300 Winchester Magnum, 220-grain Round Nose
338 Winchester Magnum, 180-grain AccuBond
An honest assessment suggests the 338 Win. Mag. may be the better option then the 300 Win. Mag. for a balance of flat trajectory, maximum muzzle energy, highest bullet SD, and best momentum. And a hunter desiring flat trajectory and long reach along with best bear protection can load the magazine with 300-grain bonded bullets, then carry some 180- to 225-grain, high B.C. bullets for sheep, caribou, etc. That way you're instantly bear ready. Near the end of a stalk on other game, switch loads. Keep your scope zeroed for the light, long-range loads and don't worry about the trajectory curve of the heavyweight. You'll shooting it at extremely close range.
Then again, why complicate things? The right 250-grain bullet from a 338 Winchester Magnum strikes a fine balance between trajectory, punch, and penetration. That should be good enough for everything. KISS.
BUY NOW
Source
The 338 Winchester Magnum: Best for Elk, Bear? is written by Ron Spomer for www.ronspomeroutdoors.com